Biography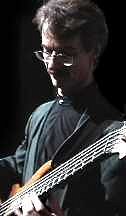 Roger Kimball studied both jazz and Classical music at the University of Miami, Florida, and Classical music at Boston University. While majoring in music composition/studio music and jazz at U. Miami, he studied bass with Lucas Drew and cello with Ingus Naruns of the Miami Philharmonic. At Boston University he majored in music composition while studying cello with Mischa Nieland of the Boston Symphony. He now gives cello, double bass and electric bass lessons in Andover and Haverhill, MA.

A versatile performer, Mr. Kimball has concertized throughout the U.S., Canada, Europe and the Middle East with numerous ensembles and orchestras, ranging from Classical symphony to pop legend Carly Simon, including jazz singer Billy Eckstine, trumpeter Warren Vache, Frankie Avalon, "The Coasters", "The Shirelles", Little Anthony, Fabian, Leslie Gore, "The Marvelettes", Del Shannon, and Brad Delp of the legendary rock group "Boston".

Roger has worked as both a bassist and cellist in recording studios in Miami, Nashville, New York, Providence, and Boston. He has numerous recording projects to his credit, including three recent critically acclaimed CDs by jazz clarinetist Harry Skoler (BROWNSTONE Records). Additionally, Roger has performed on CDs by jazz saxophonist Richard Gardzina, guitarist Peter Calo, folk artists Diane Taraz and Meg Rayne, and North Star Music recording artist Bruce Abbott, among others. For reviews and samples, please see the Demo page.

Roger with Harry Skoler and the Berklee College of Music orchestra.



Along with freelancing, he regularly performs with the educational enrichment program "Adventures With Jazz", the Classical chamber ensemble "The Woodvale String Quartet", and the acoustic pop duo "Ditto", performing the classic music of 60's and 70's artists.

Roger has had the honor of appearing at The Bluenote, The Bitter End and CB's Gallery in New York City, The Shenandoah Jazz Festival in Virginia, and in Boston at Symphony Hall, Jordan Hall, Scullers, and The Regattabar, among many other venues. He maintains a private bass and cello studio and is a professional arranger and music copyist.

For information regarding Roger's bass guitars, take this link.

Samples of Roger's work can be heard on the Demo page.